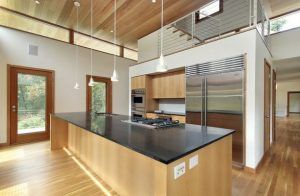 The average new house built in the United States is nearly 3,000 square feet and uses roughly 900 kilowatt-hours (kWh) of electricity per month. And while the country's average electricity consumption has remained relatively stagnant for the past decade (thanks to efficiency upgrades and technological advancements), many Americans are still searching for ways to reduce or even eliminate their ecological footprints – and their home energy bills.
RELATED: Tiny house, tinier carbon footprint
Building a new home with efficiency and eco-consciousness in mind doesn't have to cost thousands of extra dollars; utilize these cost-effective green materials and efficiency tools to help reduce your home's carbon footprint.