Penelec
The Penelec utility company provides electricity and natural gas services to nearly 600,000 customers in Pennsylvania. As a part of the FirstEnergy Company, Penelec has the resources and experience to deliver high-quality power and customer service. To learn more about what Penelec can do for you, visit its website.
Penelec Service Area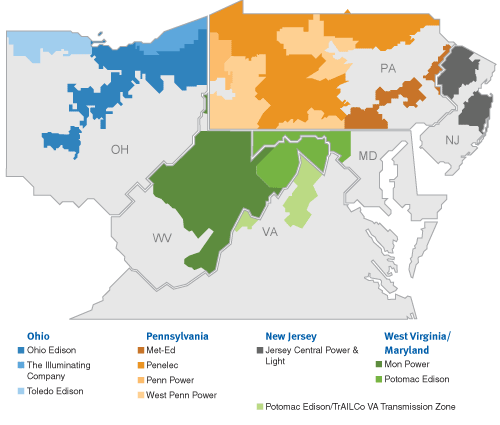 Image courtesy of FirstEnergy.
Customer service information
Penelec promises excellent service for all its Pennsylvania customers. There are several ways to get in contact with Penelec listed below:
Online:
| | |
| --- | --- |
| Service Request | Submit a service request for Penelec here. |
| Outage or Emergency | To report a power outage, downed line or other emergency, click here. |
| Outage Map | Check the 24/7 outage map here. |
| Streetlight Outage | Report a streetlight or outdoor outage here. |
| Request Electrical Work | To request electrical work from Penelec, click here. |
| Penelec Account | Log in to your Penelec account to find information on billing, usage, meter reads and more. |
Mobile:
Report an outage or emergency

Call 1-888-544-4877

Register for the Penelec text service

o Register: Text "REG" to 544487 (LIGHTS)

o Account Balance: Text "BAL"

o Report an Outage: Text "OUT"

o Check Outage Status: Text "STAT"

o FAQs: Text "HELP"

o Stop Alerts: Text "STOP ALL"

o Create Account Nickname: Text "NICK"
If you need help with anything not listed, click here.
Why deregulated energy?
The deregulated energy market in Pennsylvania separates the process of supplying and delivering energy to customers. The purpose of deregulated energy is to promote a competitive marketplace where retail suppliers offer low prices for high-quality energy. The deregulated energy system also gives customers more choices when it comes to how much energy they use and where it comes from.
Retail energy suppliers in Pennsylvania offer competitive rates and plans that can range from variable monthly plans to long-term green energy contracts. Once you've chosen a new supplier, Penelec will communicate directly with the company to ensure that you receive reliable service without any interruptions.
Compare rates in Pennsylvania
If your home or business is in the Penelec utility area, click below to find and compare rates from different Pennsylvania suppliers: