Penn Power
Penn Power is backed by First Energy Corp, one of the largest retail energy companies in the U.S. As a subsidiary of First Energy, Penn Power focuses its energy and resources exclusively on Pennsylvania home and business owners within its service area. Penn Power has more than 160,000 customers for whom the company does everything from power delivery and supply to maintenance of power lines and energy usage. To learn more about Penn Power, click here.
Penn Power Service Area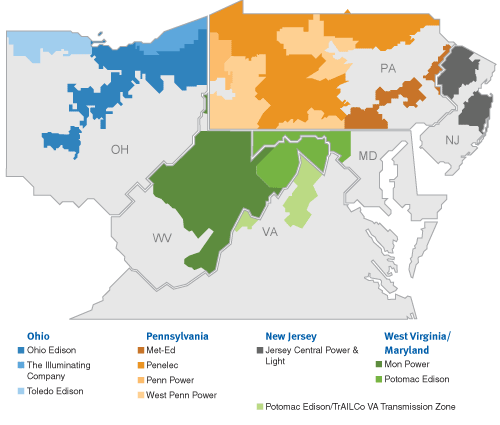 Image courtesy of FirstEnergyCorp.com
Penn Power customer service information
Penn Power prides itself on providing excellent service for all its Pennsylvania customers. There are several ways to get in contact with Penn Power:
Online:
| | |
| --- | --- |
| Service Request | Submit a service request for Penn Power here. |
| Outage or Emergency | To report a power outage, downed line or other emergency, click here. |
| Outage Map | Check the 24/7 outage map here. |
| Streetlight Outage | Report a streetlight or outdoor outage here. |
| Request Electrical Work | To request electrical work from Penn Power, click here. |
| Penn Power Account | Log in to your Penn Power account to find information on billing, usage, meter reads and more. |
Mobile:
Report an outage or emergency

Call 1-888-544-4877

Register for the Penn Power text service

o Register: Text "REG" to 544487 (LIGHTS)

o Account Balance: Text "BAL"

o Report an Outage: Text "OUT"

o Check Outage Status: Text "STAT"

o FAQs: Text "HELP"

o Stop Alerts: Text "STOP ALL"

o Create Account Nickname: Text "NICK"
If you need help with anything not listed, click here.
Why deregulated energy?
The deregulated energy system in Pennsylvania was set up in 1997. To create a competitive market, the Public Utility Commission allowed for retail suppliers to offer competitive energy rates to customers across the state. Today, hundreds of thousands of Pennsylvania home and business owners have opted to take advantage of the deregulated energy market rather than buy electricity from a utility.
By separating the processes of energy supplier and energy delivery, the Pennsylvania deregulated energy market is motivated by competition among different suppliers and local utilities. No matter which supplier you choose, your electricity or natural gas will still be delivered and maintained by Penn Power. If you choose not to purchase a deregulated energy plan, Penn Power will supply your monthly energy at a default rate that is dependent on changing energy costs.
Compare Deregulated Rates in Pennsylvania
Living in the Penn Power utility area? Visit the Choose Energy marketplace to research and compare rates from deregulated suppliers in Pennsylvania.
Or visit your city below to learn more: