Potomac Edison
Potomac Edison, a FirstEnergy company, serves almost 400,000 people across its utility area. It is one of Maryland's top utility companies, providing reliable and safe energy services to thousands of homes and businesses across the state. Besides delivering power, Potomac Edison also is home to a range of resources for customers looking to save energy and money. To find out what Potomac Edison can do for you, visit its website.
Potomac Edison Service Area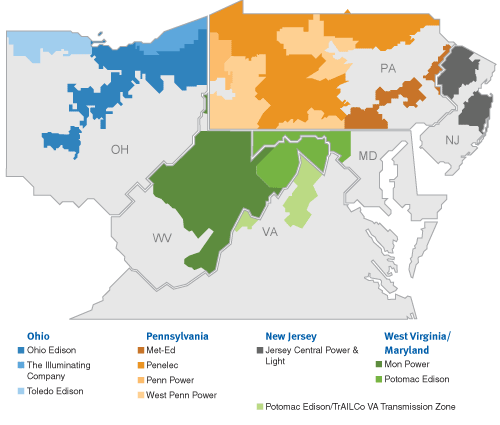 Image courtesy of FirstEnergyCorp.com
Potomac Edison customer service information
Potomac Edison devotes itself to providing excellent service for all its customers. There are several ways to get in contact with Potomac Edison listed below:
Online:
| | |
| --- | --- |
| Service Request | Submit a service request for Potomac Edison here. |
| Outage or Emergency | To report a power outage, downed line or other emergency, click here. |
| Outage Map | Check the 24/7 outage map here. |
| Streetlight Outage | Report a streetlight or outdoor outage here. |
| Request Electrical Work | To request electrical work from Potomac Edison, click here. |
| Potomac Edison Account | Log in to your Potomac Edison account to find information on billing, usage, meter reads and more. |
Mobile:
Report an outage or emergency

Call 1-888-544-4877

Register for the Potomac Edison text service

o Register: Text "REG" to 544487 (LIGHTS)

o Account Balance: Text "BAL"

o Report an Outage: Text "OUT"

o Check Outage Status: Text "STAT"

o FAQs: Text "HELP"

o Stop Alerts: Text "STOP ALL"

o Create Account Nickname: Text "NICK"
If you need help with anything not listed, click here.
Why deregulated energy?
Deregulated energy legislation is designed to save energy customers money by separating energy suppliers and deliverers. Prior to deregulation, Maryland utility companies had a monopoly on the energy market. After deregulation in 1999, utilities were tasked with delivering energy and retail energy suppliers could offer competitive pricing. Today, retail energy suppliers offer customers competitive rates and incentives to drive prices down while providing top-of-the-line products and services.
Another benefit of choosing a deregulated energy plan is predictability in your energy rate. Most Maryland suppliers offer fixed-rate or prepaid plans that will help you keep track of your energy consumption. Suppliers also have green energy plans for environmentally conscious customers, allowing a higher level of choice and customization than the local utility. No matter which company you choose as your supplier, Potomac Edison will still oversee the reliable and safe delivery of energy to your home or business.
Compare Energy Rates in Maryland
Find and compare rates from deregulated suppliers in the Potomac Edison utility area: