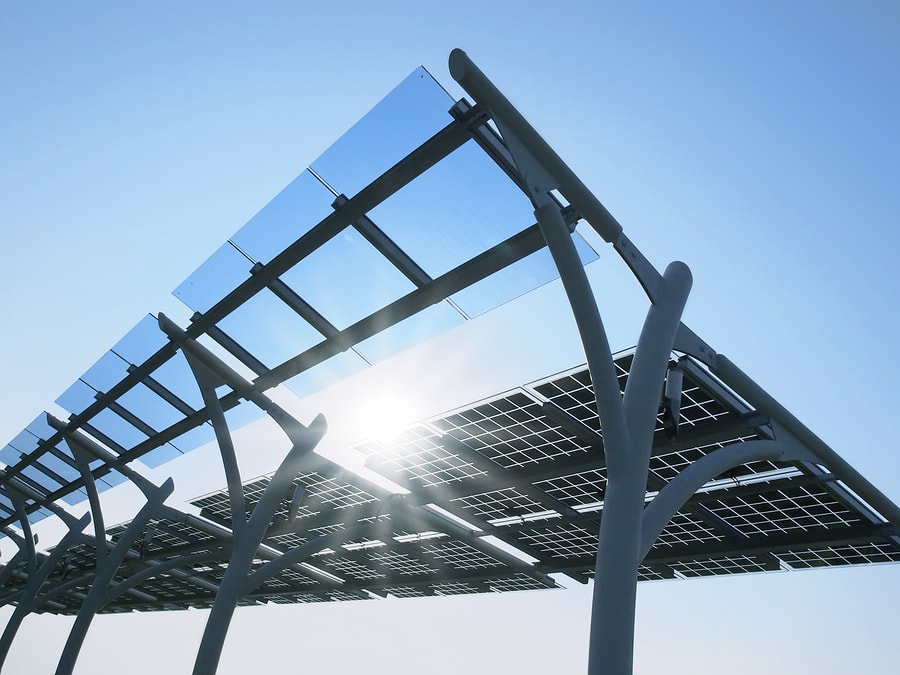 Utilities will get more value for money by co-locating solar power and energy storage facilities, according to a new report. The National Renewable Energy Laboratory's 2018 benchmark study found that co-located facilities are roughly 8 percent cheaper to build than solar generation and battery storage systems located separately.
The headline finding is part of the NREL's first study to examine the cost of energy storage combined with solar power generation in utility-scale projects. It considered several alternative models, including co-located facilities, stand alone solar and energy storage systems, and storage and solar units linked by AC and DC power.
RELATED: 'Solar flow batteries' generate and store energy from sunlight with record efficiency
In the stand-alone facilities examined, the NREL found that units with four hours of energy storage outperformed those with shorter storage durations in terms of cost efficiency. While generating electricity in a solar power system with four hours of lithium ion battery storage cost an estimated $380 per kilowatt hour, it cost more than twice that figure ($895 per kilowatt hour) at facilities with 0.5 hours of battery storage.
Solar-plus-storage attracts investment from utilities
The study comes in the context of a significant increase in interest among utilities for solar-plus-storage systems across the United States. In 2017, utilities installed 7.4 gigawatts of solar power generation, with investor-owned utilities accounting for 5.8 gigawatts.
"The price has come down substantially in the past couple of years and is now competitive with coal and gas," explains Bruce Eddleston, Vice President for Energy Policy at Southern Energy. "We would not be buying so much now if it was not the cheapest option." Southern is one of the leading utilities for investments in solar power generation.
But the cost factor isn't the only issue. One of the biggest difficulties so far with solar is that most solar energy is produced during the day, when the sun is at its brightest. However, energy demand peaks in the evening when most people return home from work. Building solar-plus-storage facilities is the most promising way to overcome this difficulty, since lithium ion batteries can store the energy produced during the day for up to four hours.
The cost of batteries has declined so sharply that in some cases, a solar-plus-storage facility outperforms traditional power plants in terms of cost. In September 2018, Bloomberg New Energy released a report that noted how solar-plus-storage systems in the US southwest are cheaper than their coal and natural gas competitors.
Duke Energy announced plans last year to invest up to $500 million in battery storage in the Carolinas over the next 15 years. The company is also involved in operating and developing solar facilities.
Investments in solar-plus-storage projects have also been made by Arizona Public Services and Xcel Energy in Colorado. Additionally, three companies want to construct solar-plus-storage units in southern California that will be capable of generating more than 700 megawatts of solar power in total.
Major project unveiled in Hawaii
Hawaiian Electric Company, which already operates 500 megawatts of renewable energy in the state, announced a major solar-plus-storage initiative at the beginning of the year. The utility has negotiated contracts including approximately 260 megawatts of solar power generation across three islands. Each solar farm will be attached to a four-hour lithium ion battery.
RELATED: Growing number of states embrace energy storage targets
Hawaii Electric reported that all of the solar projects were substantially cheaper than fossil fuels. One of the facilities came in at $0.08 per kilowatt hour, close to half the average cost for fossil fuel plants in the state of $0.15 per kilowatt hour. Even the most expensive project beat the fossil fuel average, coming in at $0.12 per kilowatt our.
"The prices reflect the contractual flexibility that enables the utility to dispatch energy from each facility to meet the needs of the grid," explains the company in a statement.
In California, Silicon Valley Clean Energy signed contracts in October 2018 to bring 153 megawatts of solar power and 47 megawatts of storage capacity online by 2021. The two projects will be the largest in California to date and will be capable of powering 39,000 homes.
"We are excited to help California lead the transition to clean, reliable and flexible energy," says Girish Balachandran, CEO of Silicon Valley Clean Energy. "These new renewable energy projects are a significant investment towards reaching our state's carbon-free energy goals and contribute to solving the state's grid integration problem by investing in large grid-scale energy storage."
RELATED: Solar roads to pave the way for eco-friendly transportation
Jordan Smith is a freelance journalist and translator covering issues related to energy, the environment, and politics. His work has appeared on the independent news site Opposing Views, and at the Canadian Labour Institute.