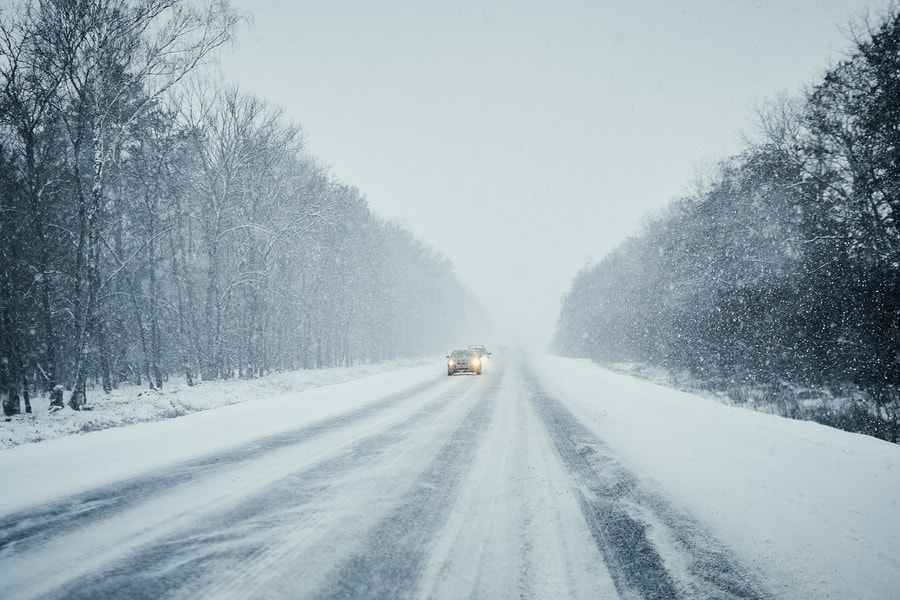 There's no such thing as a "good" storm, but winter storms are especially dangerous because they can include blizzards, ice storms and freezing rain, wind chills, sleet, and black ice. During a winter storm, your home could be subject to loss of power and frozen pipes; you may even experience hypothermia, frostbite, and hazardous road conditions that keep you stranded in your vehicle for hours, if not days.
To avoid any permanent and costly damages, take some time now to prepare your home and family for impending winter storms.
RELATED: 10 Energy-saving tips to survive the winter
"It is important for people to know the different between a winter storm watch and a warning and what to do for each situation," says Tom Heneghan, senior manager of Community Preparedness Education for the American Red Cross.
"A winter storm watch means winter storm conditions are possible within the next 36-48 hours," Heneghan says. "People in a watch area should review their winter storm plans and stay informed about weather conditions."
However, a winter storm warning means life-threatening, severe winter conditions have already started, or will start within 24 hours. "People in a warning area should take precautions immediately – it's critical to stay alert and to listen to the advice of local officials," Heneghan says.
Before the Storm
During the early days of the winter season, Heneghan recommends keeping plenty of heating fuel on hand, and checking to ensure that alternative heating sources are working properly. "Have wood and coal stoves, fireplaces and chimneys inspected annually by a professional and cleaned if necessary," he advises.
This is also the time of year when house fires increase. According to the National Fire Protection Association, 50 percent of all home heating fires occur during the months of December, January, and February. "Keep children, pets and things that can burn – paper, matches, bedding, furniture, clothing, carpets and rugs – at least three feet away from heating equipment," Heneghan says.
RELATED: 4 Tips for energy efficient holiday decorating
If you have to go outside during a winter storm, Henehgan says you should wear layered clothing, mittens or gloves, and a hat. "Take frequent breaks and avoid staying outside in cold temperatures for extended periods of time." And remember: if your home's power goes out and you don't have an alternative heat source, it will get cold indoors. Make sure that you and all of your family members have gloves, mittens, hats, heavy coats and extra blankets to help weather the storm.
 Pack an Emergency Kit
"Prior to a winter storm is the time to check your emergency kit and make sure that it has ample food and water and to replenish any outdated or missing supplies," Heneghan advises. Your preparedness kit should include:
Water – at least a 3-day supply; one gallon per person per day
Food – at least a 3-day supply of nonperishable, easy-to-prepare food, per person
Flashlights
Battery powered or hand crank radio (NOAA Weather Radio, if possible)
Extra batteries
First aid kit
Medications (7-day supply) and necessary medical items
Cellphones with chargers
Copies of keys and personal documents
Any necessary pet supplies
"The Red Cross also recommends downloading the free Red Cross Emergency App, which provides instant access to customizable weather alerts, safety tips, and preparedness information for a variety of different emergencies – including winter storms," Heneghan say.  "Download the app today in your app store by searching for 'American Red Cross.'"
After the Storm
Even if you think the storm is over, you should continue to listen to your local radio or TV station, or NOAA weather radio, to receive weather updates and instructions. "Access to some parts of the community may be limited or roads may be blocked by snow or emergency vehicles," Heneghan says.  He advises against driving until you know that travel conditions have improved.
Another reason to keep up with local weather forecasts, especially if you plan to go outside: "Major winter storms are often followed by even colder conditions," Heneghan explains.
And don't forget to check on neighbors (especially if they're elderly, disabled, or have small children) to see if they need any help or supplies.
After the storm has passed, you might want to clear the snow and debris around you, but Heneghan warns against overexertion. "Heart attacks from shoveling heavy snow are a leading cause of death during the winter," he says.
If you've lost power, try to keep your refrigerator and freezer doors closed as much as you can. "An unopened refrigerator will keep foods cold for about 4 hours," Heneghan says. Or, "surround your food with ice in a cooler or in the refrigerator to keep food fresh for a longer period of time."
Terri Williams is a freelance journalist with bylines at The Economist, USA Today, Yahoo, the Houston Chronicle, and U.S. News & World Report. Connect with her on Twitter or LinkedIn.