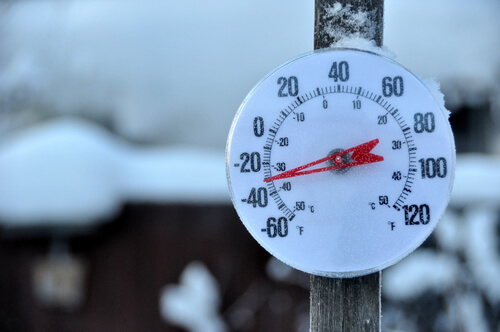 (Last updated: February 12, 2:00 p.m.)
The cold snap embracing Texas into next week could push the state's electricity's usage to record winter levels as soon as Monday, the state's key energy watchers say. That could mean more scattered outages and possibly some higher pricing.
Today is the anniversary of the coldest day ever recorded in Texas: -23 degrees in 1899 in Tulia. (That record was equaled on Feb. 8, 1933, in Seminole.)
Next week won't be like that, but temperatures in Houston could fall into the teens next Tuesday, and that would reinforce the sleet, freezing rain, or snow expected the day before. Dallas could have up to six inches of snow and temperatures in the low 20s. Austin forecasters say it could be as low as 11 degrees Tuesday morning.
Roads will be treacherous if that happens, of course. But most folks, particularly in the era of work from home, can avoid travel. A bigger threat could be power outages, particularly with expectations from state energy officials that the cold snap likely will prompt record winter usage.
ERCOT warns of high usage
The Electric Reliability Council of Texas, which manages the flow of electricity for about 90 percent of the state's energy, urges power customers in the state to be aware of conditions. "This statewide weather system is expected to bring Texas the coldest weather we've experienced in decades," said ERCOT President and CEO Bill Magness. "With temperatures rapidly declining, we are already seeing high electric use and anticipating record-breaking demand in the ERCOT region."
ERCOT has asked power generators to prepare for high usage. Measures include reviewing fuel supplies and any planned outages of generating capacity.
Based on current temperature and usage forecasts, ERCOT could set a winter peak demand record as soon as Monday, it says. The existing record is 65,915 megawatts set on Jan. 17, 2018. As of early Friday afternoon, ERCOT was showing demand at 62,273 MW. Reserves of 3,873 MW – making a total of 66,036 MW available to the grid.
PUCT calls for Texans to monitor conditions as well
The Public Utilities Commission of Texas echoes many of the warnings from ERCOT, noting that high usage days normally don't occur this time of year. "While people often associate the dog days of summer with high electricity consumption, plummeting temperatures predicted for the next few days will place significant demand on the ERCOT grid," said PUCT Chairman DeAnn Walker.
The commission also called for all power agencies in the state to work together to mitigate the effects. "The electric system response under stress will, as always, require significant coordination between the Commission, ERCOT, and all entities responsible for providing safe and reliable power."
PUCT recommends that Texans bookmark its Storm Resources page at for helpful advice, including features such as its statewide power outage restoration map.
Demand and wholesale pricing
Unprecedented winter usage could drive up demand for power on the wholesale market, as it did during late summer 2019. On Aug. 12, 2019, wholesale prices skyrocketed past $9,000/MW and averaged $6,537.45/MW across the state.
That immediately drove up prices for customers whose energy plans were tied directly to the wholesale rate. Moreover, wholesale price increases inevitably filter down to retail prices.
Takeaways:
If you're among Texans suffering from power outages, remember to contact your utility – not your retail electric provider – to address the problem.
If your electricity rate is tied to the wholesale price of electricity, you may want to consider signing up for a fixed-rate electricity plan with ChooseEnergy.com. Enter your ZIP at the top of the page to see electricity rates in your area.
Arthur Murray
Energy Expert
Arthur directs content strategy for ChooseEnergy.com, taking advantage of more than 20 years of newspaper and magazine experience. His articles have appeared on Zillow.com, Business.com, Nasdaq.com, and USNews.com, among others. Reach out to us with any questions or concerns. 
(Dmitry Naumov)/Shutterstock