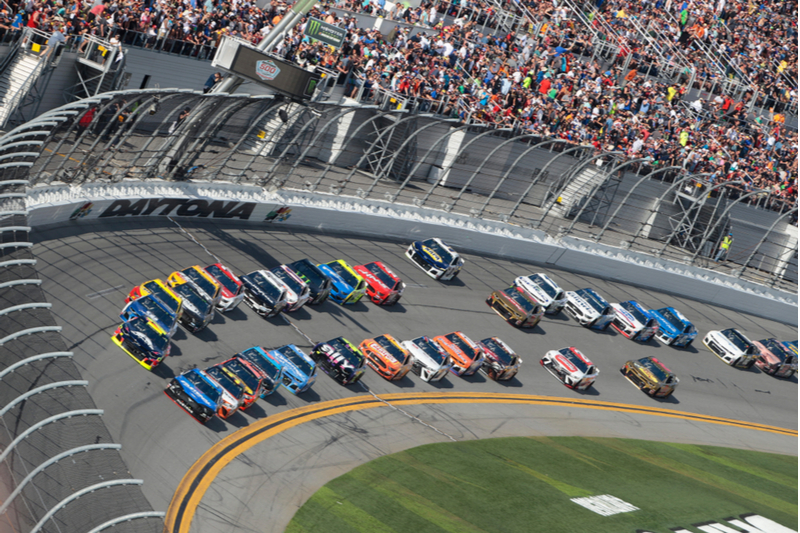 OK, it's not going to happen anytime soon. The current vehicle lineup for the racing circuit's top division features the gasoline-powered Chevrolet Camaro ZL1, the Ford Mustang, and the Toyota Camry. But what if they didn't? What if cars at the Daytona 500 and all other top-level NASCAR races were powered by electricity instead?
Yes, the idea is far-fetched. Of the three automakers involved in NASCAR, only Ford makes an electric version of its signature car – and many car enthusiasts argue that the Ford Mustang Mach-E, which will be available on car lots later this year, isn't a "real Mustang" – and it is in no way designed for racing.
Nevertheless, ChooseEnergy.com® analysts made some assumptions – pricing for 98-octane gasoline, not available to the average motorists, for example – to estimate the costs, lengths of races and more if they were run on electricity instead of gasoline.
Here's what we found:
Longer races, for two reasons
Electric vehicles aren't as fast as gasoline-powered vehicles. The average fastest speed of topspeed.com's Top 8 fastest electric cars is 119.25 mph. The average winning speed of the slowest Daytona 500, run in 1960, was 124.74 mph.
Under normal conditions, gasoline-powered vehicles complete the race in roughly three hours. But that includes cautions – periods where the vehicles aren't going top speed – and pitstops.
About those pitstops: The longest pitstops, which entail changing all four tires and filling up with what passes as gasoline – take 12-16 seconds. Getting two tires and gas takes about 5-7 seconds. Late in a race, drivers will sometimes just get a splash of gas – that takes 2 seconds.
It would take an electric car about 4 hours and 12 minutes of full-speed driving time to complete the race. That's not counting "refueling" – filling up the "tank" with electricity.
As the chart below shows, none of the fastest EVs can finish a 500-mile race without recharging.