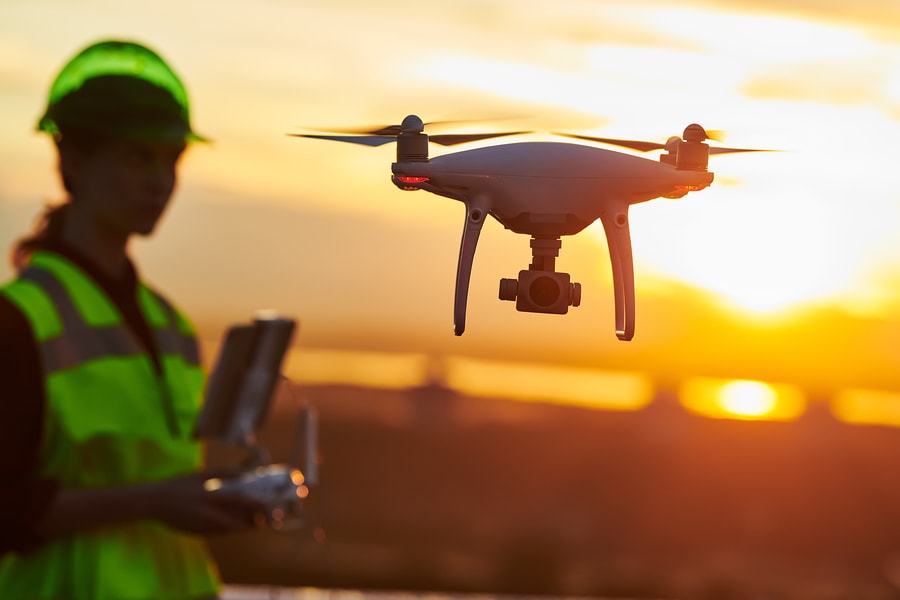 Gone are the days when drones were simply toys used by remote-control airplane hobbyists; now, drones are used in a variety of settings and industries, including the energy sector.
Choose Energy spoke with Carmen Smith, VP of marketing at Measure, an aerial intelligence company, about the growing role these unmanned aircraft systems (UAS) play in the energy industry.
Safety
"Drones provide safe, efficient inspections for applications across the energy industry, including traditional power generation and transmission & distribution," Smith says.
"Drone technology can drastically reduce inspection time, save labor costs and reduce hazardous manhours," she explains. For example, Smith says that manual inspections are time consuming and often involve climbing or using buckets, which introduce hazards that drones help avoid.
According to OSHA, utility workers are susceptible to such occupational hazards as working at high heights, high-voltage contact, and working in confined areas, inclement weather or unsafe zones. The utilization of drones helps keep workers away from private property, aggressive dogs, volatile homeowners or areas that are not adequately maintained.
Quality and efficiency
"Ground-based data collection typically lacks the detail and flexibility that a drone can provide," Smith explains. Multi-rotor drones can even capture thermal and RGB imagery.
While helicopters are another option, Smith says there are limitations to using them. "Helicopters can capture data quickly and over large areas of land, but they are expensive, can't operate near residential areas, and often miss finer defects," Smith says. For example, helicopters cannot detect rust, missing pins, or damaged insulators on power lines.
Smith explains, "In the case of inspections on energy infrastructure such as substations, drones can complete inspections in a fraction of the time with no shut-down required," unlike when a utility employee does the inspection, which minimizes the risk of power outages.
When there are natural disasters, utility companies can deploy drones to quickly and easily navigate past fallen trees or flooding to collect information and restore power.
Drones and the renewables industry
The benefits of using drones in the energy sector are not limited to traditional power scenarios. "Without drones, wind turbine inspections would have to be done manually – a very dangerous and time-consuming job. If inspections were carried out using ground-based photography alone, they would provide lower quality data," Smith says. "With drones, plant managers can conduct safe inspections at a reasonable cost while requiring much less downtime and producing high quality data." Smith says drone inspections can not only be conducted more frequently, they also can detect defects before they turn into failures.
"Drones are 97% more efficient than manual inspections for solar farms," Smith explains. "They avoid having workers trek across many acres of solar panels or climb onto roofs, and they complete a detailed inspection of 100% of panels in a fraction of the time (about 10 minutes per MW of solar)."
In fact, she says that drones can also conduct a complete thermal inspection. "Using an IR camera, drones can identify sub-module hotspots that manual inspections might miss," she says. "Drone data is uploaded into an interactive, easy-to-use online web map and can also be sent to a smartphone app for use by maintenance and repair personnel in the field."
Disadvantages of using drones
So, why aren't drones used more widely in the energy sector? Under Federal regulations, Smiths says that drones cannot be operated beyond visual line of sight (BVLOS). "Getting a BVLOS waiver is possible, but time consuming and expensive." As a result, she says helicopters have an advantage for cursory inspections. "Helicopters can fly over great distances of transmission lines or pipelines, covering more distance in less time," Smith explains. "However, in the case of more detailed inspections, which require helicopters to hover to capture additional imagery, or in an area where manual inspections would be used, that's where drones really shine."
RELATED: New study documents utility scale solar-plus-storage costs for first time
RELATED: Solar roads to pave the way for eco-friendly transportation
Terri Williams is a freelance journalist with bylines at The Economist, USA Today, Yahoo, the Houston Chronicle, and U.S. News & World Report. Connect with her on Twitter or LinkedIn.